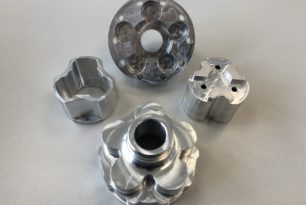 FKM Elemente provided support for Baltic Racing and produced four components for the 2020 racing car.

This involved the production of two housing parts of the differential and four components for the tripod housing for next season's TY-20. Baltic Racing is part of the world's largest
junior engineering competition "Formula Student". The goal is to design a new race car every year, to produce the parts and finally to build the car. This is a self-supporting student project. Therefore Baltic Racing depends on external support.

The two larger components are housing parts for a differential housing and the two smaller components are for a tripod housing

Made from rolled aluminium plate in EN AW-7022.
Components for racing cars