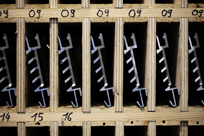 It's finished. The move to the new business premises of FKM in Wustrow has been completed successfully – with the exception of the remainder of the work that always accompanies a move. The specialists from the moving and transport company used low-loading lorries and heavy equipment to bring tonnes of heavy machining units and other machines from the previous location in Lüchow to the new plant to Wustrow.
The new site is only a few kilometres from the former location. It offers FKM optimal conditions for its manufacturing as well as the option of expanding further in terms of space.
"We're pleased", say the managing directors Stephan Fischer and Eckart Achauer, "that we found a location not far away from Lüchow. That was especially important with regard to travel times for our employees."
At this point, we would like to thank all of our employees who actively supported the relocation and contributed to this successful outcome.
Relocation to new site completed